Besides dying, one of the worst things to come out of the coronavirus pandemic is the massive number of Americans losing their jobs. I estimate there will be over 50 million unemployed out of our ~160 million working population by the end of summer if lockdowns are not lifted beforehand.
On the flip side, the federal government has significantly boosted unemployment benefits by providing an additional $600/week through the week of July 31, 2020.
Before the CARES Act was passed, the typical maximum unemployment benefit duration was 26 weeks provided by the state. With the expanded unemployment benefits, the program runs through 12/31/2020.
Although having millions of people out of work is terrible, the optimist would say that means millions of people are benefitting from enhanced unemployment benefits during a difficult time.
Let's take a look at the states with the highest and lowest unemployment benefits. I'll then add on the temporary $600/week to see what the total maximum unemployment benefit a person could get.
States With The Highest Unemployment Benefits
Below is a table I put together with the top 25 states with the highest unemployment benefits. In order to get the maximum unemployment benefits, you have to earn a minimum amount of income to qualify usually based on the prior four quarters of earnings. Each minimum income amount to earn the maximum unemployment benefit is slightly different by state.
Earning $4,276 to $5,692 a month in Total Maximum unemployment benefits per person should be enough to live a comfortable lifestyle. That's an annualized income of $51,312 to $68,304 for just one person compared to the median household income of ~$64,000.
There is a correlation between the amount of qualified income earned, the unemployment benefit amount and the cost of living per state, e.g. higher cost of living states generally have higher unemployment benefits.
However, some states such as Minnesota, Oregon, North Dakota, Kentucky, Oklahoma, Kansas, and Ohio seem to have more generous unemployment benefits than their cost of living would dictate.
For example, the median household income in North Dakota is $61,843 a year or $5,153 a month. With the expanded unemployment, unemployed North Dakotans can now earn $4,932 a month. If you have two in the household who were once working, the potential maximum unemployment amount is $9,864 a month.
In my opinion, the state you want to best become unemployed in is Hawaii. Not only is Hawaii sunny and warm all the time with lots of free outdoor activities, Hawaii also offers $648/week in maximum unemployment benefits. Due to the CARES Act, the unemployed get $1,248/week maximum or $4,992/month per person. Even receiving the normal $2,592 a month unemployment maximum is pretty good.
Given it is common in Hawaii to have multi-generations living together under one roof, you could easily have two or three people getting unemployment benefits and live a reasonable lifestyle. Is there any wonder why Hawaii is consistently ranked the happiest state in the country?
States With The Lowest Unemployment Benefits
On the flip side, below are the states with the lowest unemployment benefits. Although the amounts are much lower than the states with the highest unemployment benefits, the benefit amounts are again correlated with the cost of living per state.
For example, Puerto Rico has a median household income of roughly $20,500 a year or $1,708 a month. If true that an extra $600/week applies to unemployed Puerto Ricans as well, unemployed Puerto Ricans can now earn $3,160 a month or 85% more than the median household income.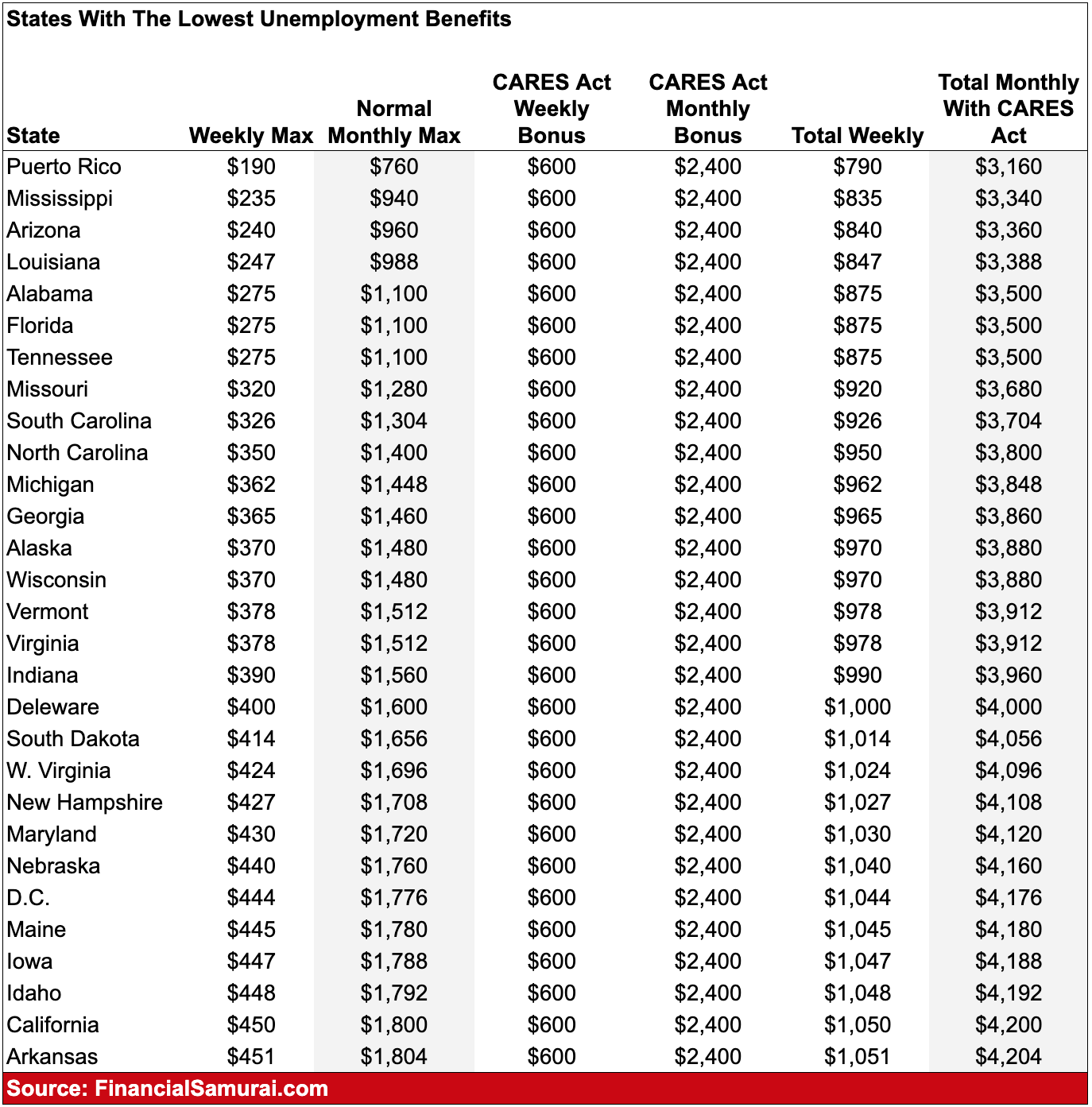 The lowest cost of living states that provide the most unemployment benefits are Arkansas, Idaho, Iowa, Nebraska, West Virginia, South Dakota, and of course, Puerto Rico.
The states and district that provide the least amount of unemployment benefits due to their higher cost of living are California, D.C., and Arizona.
I used to think getting $450/week in San Francisco was pretty good until I saw how much more other cities in other states are getting, despite having a much lower cost of living. Now I think $450/week in normal times isn't very good at all.
It's funny how everything is relative in finance.
States With Highest Unemployment Benefits With Dependents
Please note that the following states below allow for even higher unemployment benefits, depending on the number of dependents:
Connecticut: $649 max normal a week, up to $749 with dependents
Illinois: $484 max normal a week, up to $667 with dependents
Massachusetts: $823 max normal a week, up to $1,234 with dependents
Ohio: $480 max normal a week, up to $647 with dependents
Pennsylvania: $572 max normal a week, up to $580 with dependents
Rhode Island: $586 max normal a week, up to $867 with dependents
Add on another $600 a week in enhanced unemployment benefits under the CARES Act, and these states truly do their best to take care of unemployed families.
Massachusetts is the best state to be unemployed with dependents if you can stand the cold for four months a year. Ohio is the best value for unemployed families given the low cost of living.
States Where Unemployment Benefits Are Higher Than Average Wages
Here's a chart put together by Evercore ISI Research which shows states that offer higher unemployment benefits than the average wage. More states now offer higher unemployment benefits than average wages.
These states include: Maine, New Mexico, Idaho, Iowa, Kentucky, Arkansas, South Dakota, Vermont, Wyoming, Montana, Mississippi, Alabama, Nebraska, Oklahoma, Missouri, Pennsylvania, Kansas, Tennessee, Nevada, North Dakota, Louisiana, Delaware, Arizona, Michigan, Wisconsin, Oregon, Utah, South Carolina, Maryland, Minnesota, Rhode Island, Connecticut, Florida, Texas, and Ohio.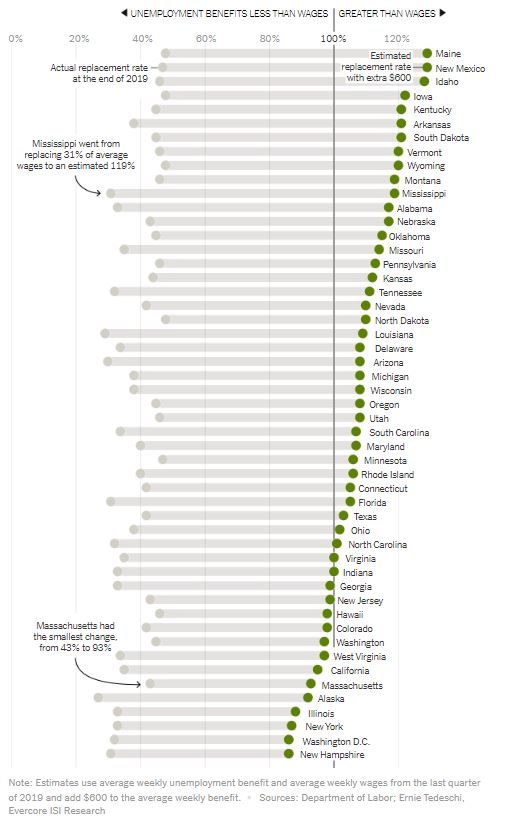 Surviving Unemployment
I understand there is a lot of angst, uncertainty, and frustration during this time, especially if you are unemployed. However, with the enhanced unemployment benefits provided under the $2.2 trillion stimulus bill, getting an extra $600 a week in unemployment benefits through July 31, 2020 should be extremely helpful to get most folks through this disaster.
If further lockdowns are required, there is an excellent chance the $600 a week extra in unemployment benefits will get extended. But even if there is no extra $600 a week in unemployment benefits, at least unemployment benefits will extend through December 31, 2020.
If you are still employed, consider trying to engineer your layoff in order to get a severance package if you wanted to leave your job anyway. Not only is now a great time because unemployment benefits are at all-time highs but now is also a great time because you'd be helping your boss save someone who might really need a job.
For a boss or supervisor, having to decide who to furlough or lay off during a downturn is an onerous task. By having a smart negotiation about getting laid off, not only can you get a good amount of unemployment compensation, you can also potentially get a severance package. The propensity to offer a severance package is also at an all-time high.
If you want to get back into the workforce, it's not a bad idea to try and maximize your unemployment benefits until you find your ideal job. Besides, it's not easy finding a job during a lockdown. Unemployment is the time to reflect on what you have done and think deeply about what you really want to do with your life.
Who knows, you might enjoy not working for someone else so much that you decide to start a business or if you have enough investment income, to retire. Not a day goes by where I'm not thankful for starting Financial Samurai in 2009. You won't regret planting your own flag online too.
If you've been thinking about retiring soon, use the unemployment period as an early retirement test drive. It's actually quite similar. Best of luck everyone!
Readers, which states do you think provide the highest unemployment benefits adjusted for the cost of living? Do you think you could comfortably live off the maximum unemployment benefits provided by your state? If there are any unemployment changes/differences you notice from your state, please let me know and I'll update the charts. To subscribe to Financial Samurai click here.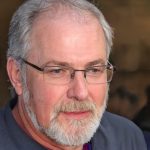 I'm an experienced writer and commentator on all things cryptocurrency. I have been involved in the crypto community since early 2017 and have been writing about Bitcoin, Ethereum, and other digital assets since then. In addition to being a journalist, I have written two books on cryptocurrency investing: "Cryptoassets: The Innovative Investor's Guide to Bitcoin and Beyond" (2017) and "The Art of Cryptoasset Investing" (2018). I'm a regular contributor to Forbes' Cryptocurrency & Blockchain section, where I write news and analysis on the latest developments in the space.