Most of us agree that Walmart gift cards are almost as good as cash.
You can buy practically anything in their superstores, both online and in store. Walmart is also considered one of the most affordable ways to shop, with practically endless choices and great convenience.
Short of receiving cash, earning free Walmart cards is a great reward.
In this article we'll explore 17 easy ways to get free gift cards, and it's easier than ever.
1. Swagbucks
Swagbucks makes it simple to earn for lots of different activities, including watching videos, taking surveys, downloading apps, and even doing online shopping.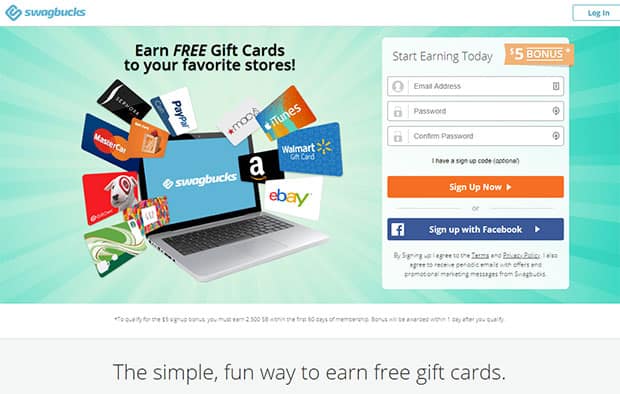 You can earn cash back for your shopping and rack up points as you surf the internet as you would do anyway. Swagbucks is a well established brand, and the company sends thousands of gift cards each day, with over $320 million already paid to its user base. 
There are a few aspects of Swagbucks that are really cool. Firstly, there is a wide variety of activities and tasks to earn Swagbucks that can be redeemed for free gift cards. While the surveys don't tend to pay very much, you can rack up serious points with other activities.
Another nice thing is that you can redeem earnings when your balance reaches just $5, so you don't need to wait months before you can claim your Walmart gift card. New Swagbuck users can also receive a $5 bonus for creating a new account. 
Go to Swagbucks
2. Rakuten
Rakuten is a high value cash back program without the hassle of needing to calculate points. You can receive up to 40 percent cash back at approximately 2,500 retailers with no points involved. This provides cash back at some of the most popular retailers, and you can get this converted into free Walmart gift cards. You can also increase your cashback with smart shopping, so you may get more points by switching to a different grocery store or buying specific brands.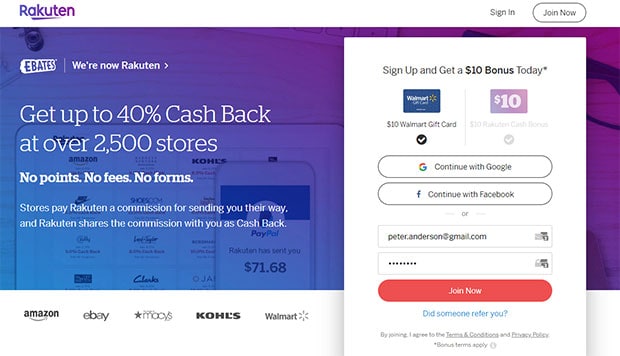 Rakuten is simple to use; you just need to sign up and then complete your shopping through the Rakuten app, portal or by using their extension.
Your cash back rewards will show up into your account, which can be redeemed into gift cards or a PayPal transfer.
Rakuten is also offering a $10 sign up bonus that can be immediately redeemed for a Walmart gift card. 
Go to Rakuten
3. Nielsen
At some point, you're likely to have heard about Nielsen research, as it is a well respected research organization. However, what you may not be aware of is that Nielsen pays internet users to simply provide access to your usage. 
The Nielsen Computer & Mobile Panel is easy to set up and you can start earning immediately. All you need to do is enable Nielsen access to any of your internet enabled devices and go online every day as you typically would.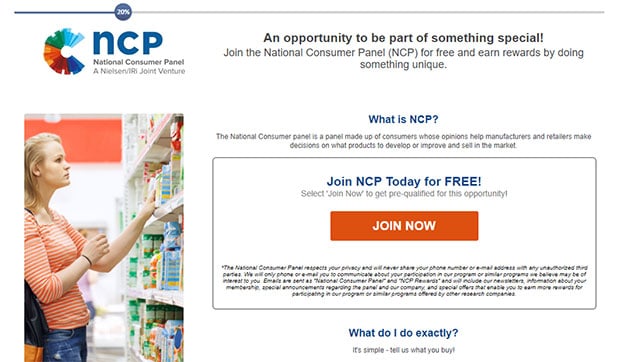 Nielsen uses points, and you can track your points on your profile page. When you reach 800 points, you can cash out for a $5 gift card. You can earn rewards per registered mobile device up to $50 each year, but there must be activity on the device to qualify. There is also a sweepstakes payout each month with $10,000 split among 400 winners per month. 
Go to National Consumer Panel
4. Survey Junkie
This is arguably one of the most trusted and popular survey websites and a great way to get a free Walmart gift card.
Survey Junkie pays people to provide honest opinions and help brands to improve products and services. When you sign up for a free account, you can immediately start making money completing surveys matched to your personal profile.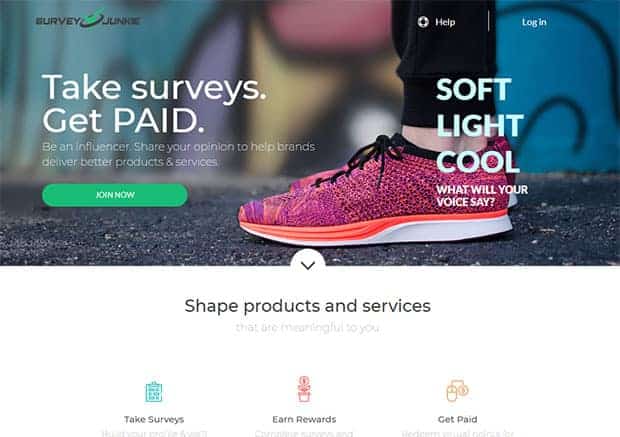 Survey Junkie takes you through how many points you will earn on each survey and how much time it should take before you start any survey. This can be helpful to avoid wasting time on a low paying task. 
You will earn $1 for every 100 points, and you can choose to cash out your earnings by gift card or PayPal. 
Go to Survey Junkie
5. Ibotta
Ibotta is a very popular cash back app providing cash back offers on products with lots of retailers and websites. You can claim offers you want and either link the app to your loyalty cards or scan your receipt. This makes it a great way to save money and earn free gift cards.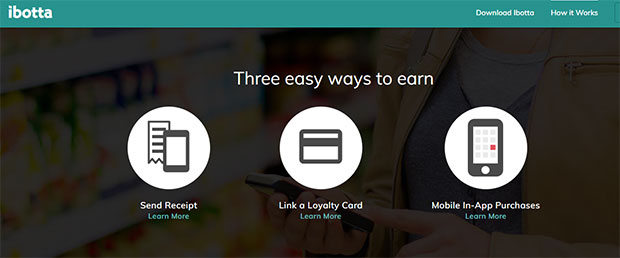 Not only can you receive Walmart gift cards, but you can also save money on your Walmart shopping. There are plenty of cash back offers for your Walmart purchases, and the offers periodically change, so keep checking the Ibotta app to check what offers are currently available. 
The process is straightforward; all you need to do is go to the app and select the products you might buy. When you purchase the item, snap a photo of your receipt and upload it to the app. The rewards can vary greatly; you may get a dollar for buying dog food and $2 for buying a six pack of diet Coke. 
There are several pay out options, including a free Walmart gift card. You can also get a $10 bonus when you sign up for a new account. 
Go to Ibotta
6. InboxDollars
InboxDollars is another survey site, but you can earn money for completing other tasks such as accepting free offers, watching videos, or downloading apps.
From the platform dashboard, you can browse the latest and most popular offers to start quickly racking up earnings. Inbox Dollars are currently offering a $5 sign up bonus when you create a new account.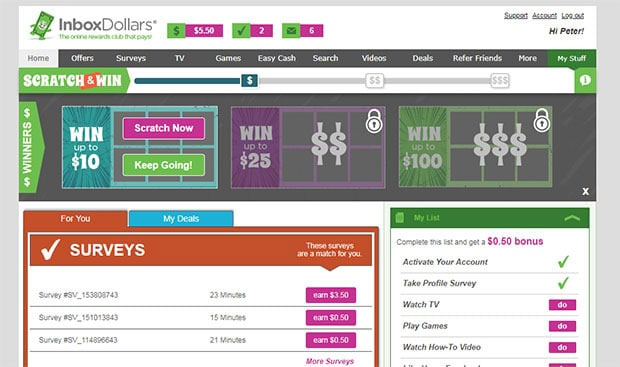 This is an easy, straightforward way to earn money, and Inbox Dollars has already paid out $57 million to its user base. The platform does tailor the surveys to your circumstances, so if you don't meet the average, you may be restricted to fewer survey opportunities. However, the company does have lots of new surveys coming online continually.
The amount of points you receive can also vary according to the survey, but once you accumulate sufficient points, you can redeem them. When you cash out, you can choose Walmart gift cards or check payments. 
Go to InboxDollars
7. One Opinion
One Opinion is a platform for taking surveys, and it rewards its users in either gift cards or PayPal credit. You receive points for completing every survey that are added immediately to your account.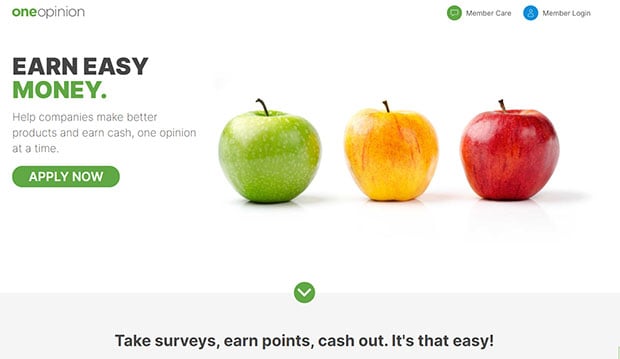 What makes One Opinion stand out is that it is well regarded for offering clear details of each task. You will know how long it will take, what you are required to do, and what you will earn before starting any task. This is also supported with excellent customer service. Unlike many platforms, One Opinion offers 24 hours a day Member Services team for any issues or queries you may have about your account, making it easy to earn free gift cards. 
Go to One Opinion
8. Vindale Research
Vindale Research pays users to take surveys on any device, so you can earn free gift cards at home or when you're out on the go. There are hundreds of surveys added to Vindale Research's website each day, and the company has already paid out over $6,955,991 to its members for taking surveys.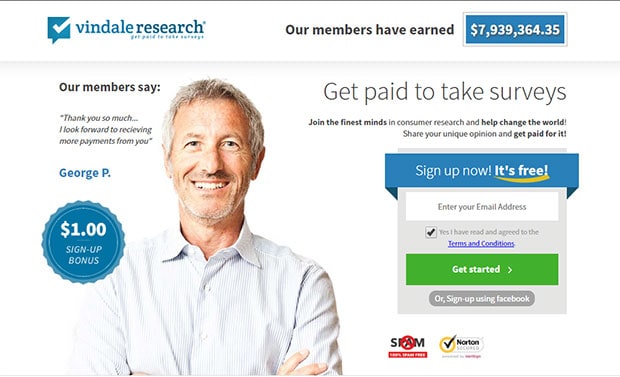 When you sign up, Vindale Research will ask you to share your demographic information to match you with appropriate surveys. The site allows you to browse the available surveys, or you can rely on the Vindale email notifications as qualifying surveys become available. 
Vindale Research protects your personal data with TRUST-e certified data privacy and offers full support. You don't need to worry about adding up points, as Vindale Research allows you to redeem your earnings as a PayPal transfer or Walmart gift cards. 
Go to Vindale Research
9. Shopkick
Shopkick is a fantastic way to earn Walmart gift cards by just scanning barcodes using your phone. This doesn't seem like a real opportunity, but Shopkick will pay you to walk into physical retail stores and simply scan specific items. 
As you scan more items, you will rack up points or "kicks." You can exchange your kicks for gift cards, including Walmart cards.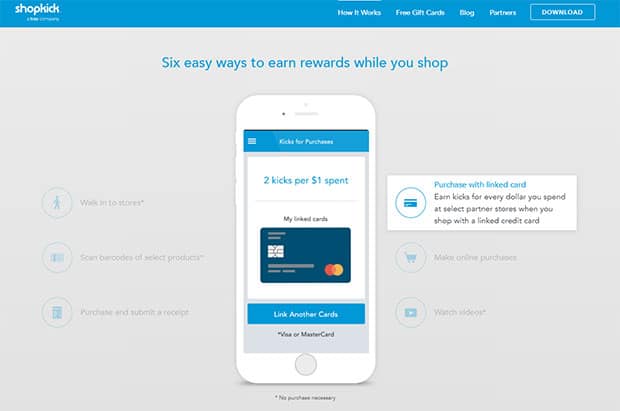 You can also earn kicks by submitting receipts, making purchases with linked credit cards, making online purchases through their portal and by watching videos.
Go to Shopkick
10. Point Club
Point Club allows you to start earning gift cards or cash with a simple two step sign up.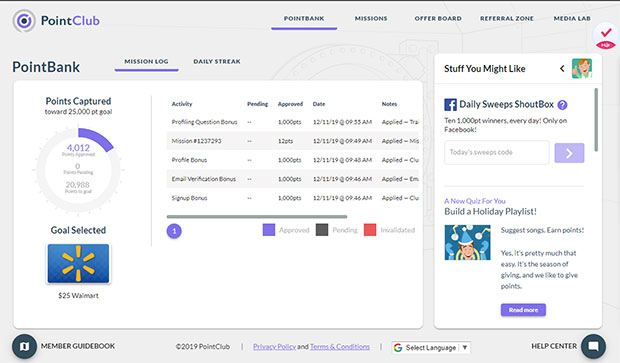 You will earn points for taking surveys, but there are also new ways to earn additional points, such as linking a social media account or confirming your email address. You can redeem your accumulated points for gift cards from a variety of retailers, including Walmart, with a choice of physical gift cards or e-gift cards.
Point Club is completely free, and new users will also receive a $5 bonus for signing up when you first join. 
Go to Point Club
11. MyPoints
MyPoints allows you to earn free gift cards doing fun, easy online tasks. MyPoints users have collectively earned $236 million in rewards to date.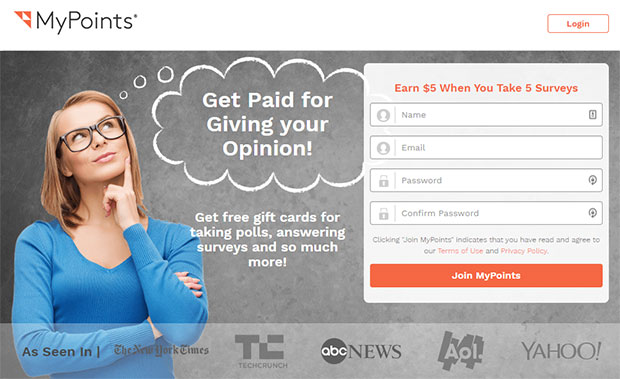 You can earn MyPoints by playing games, watch videos, or taking online surveys. You can also earn cash back on your online shopping from popular retailers, including Amazon, eBay, and Walmart.
Currently, MyPoints offers 15 points for every dollar you spend at Amazon and 8 points for every dollar you spend at Macy's. There are also special offers, such as 50 points for every dollar you spend at a specific flower delivery website on a special holiday. 
You can accumulate points to be exchanged for gift cards for over 75 retailers, including Walmart cards.
MyPoints is also offering a $10 bonus for signing up. 
Go to MyPoints
12. i-Say
According to i-Say, your personal opinions can make a difference in the world, and it can earn you free gift cards in the process. i-Say has already paid out free rewards to three million participants and says that all you need to do is provide your honest thoughts through the online surveys to earn.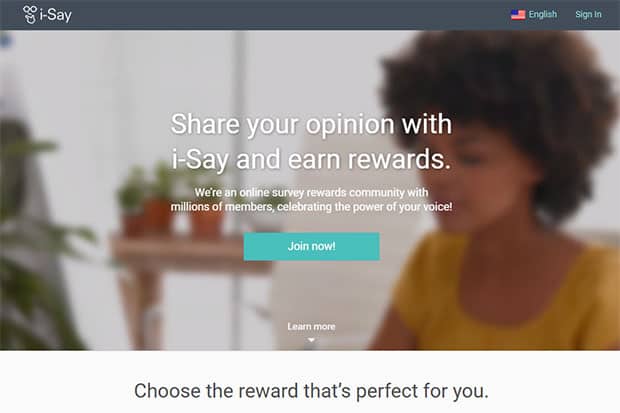 You can earn points by taking surveys, but by completing polls with a simple yes or no option, you can win a chance to qualify to participate in a prize draw.
When you accumulate sufficient rewards, they can be redeemed for Walmart gift cards. You are in complete control to the rewards you want to receive, and i-Say also holds contests regularly where you will have a chance to win more. 
Go to i-Say
13. OpinionSquare
OpinionSquare rewards you with valuable prizes, including Walmart store credit.
They also provide opportunities to enter into a $100,000 sweepstakes.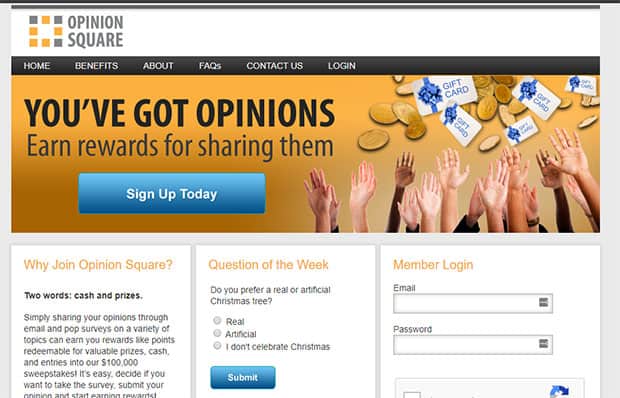 When you sign up, you'll be able to share your opinion on a whole host of topics via their surveys. You'll be rewarded with points that can be redeemed for cash and gift cards.
Once your points accumulate, you can redeem them for prizes and cash, making it super simple to get Walmart gift cards. 
Go to Opinion Square
14. MySoapBox
MySoapBox will pay you gift card reward to help them let brands know how they are doing. This online research community compiles feedback on services, products, and even member experiences, rewarding members with free gift cards. This is a way for the brands to discover how well they are performing, where they can do better, and what they need to do moving forward.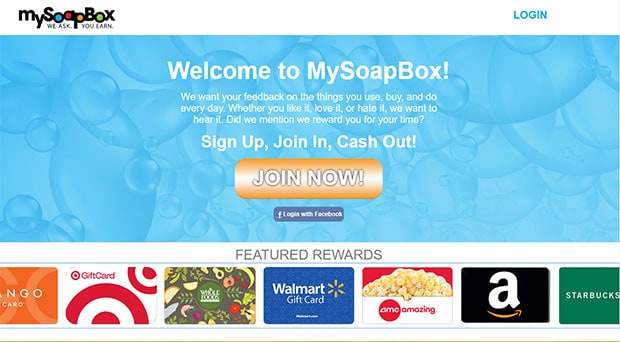 Not only does My Soap Box allow you access to free gift cards by reviewing the things you use, buy and do in your everyday life, but there is also the option to redeem rewards for gift cards from popular retailers. 
Go to MySoapBox
15. PrizeRebel
PrizeRebel is a site where you can get paid in Walmart gift cards (or PayPal, Visa gift cards and more) for doing things like answering survey questions, completing offers, watching videos and more.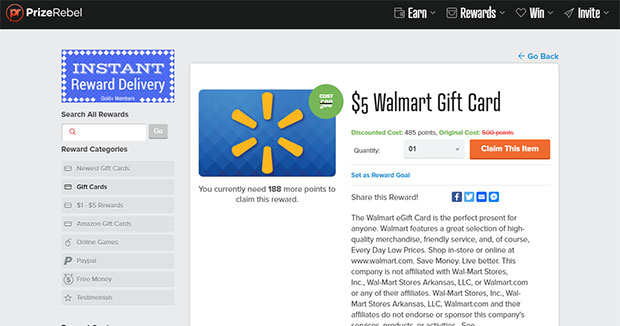 When you have gathered enough points you can redeem your points in the Rewards store where they have any number of great rewards you can choose from.
You can also earn points by referring other users to the service. When a user you referred earns points on the site, you earn 20% of what they made. If they watch a video and earn 100 points, you'll get 20 points.
Go to PrizeRebel
16. Fetch Rewards
Fetch Rewards is an app for iOS or Android that gives you rewards, just for scanning in your grocery receipts.
When you scan in your receipt it will identify products that you bought that can earn you extra points.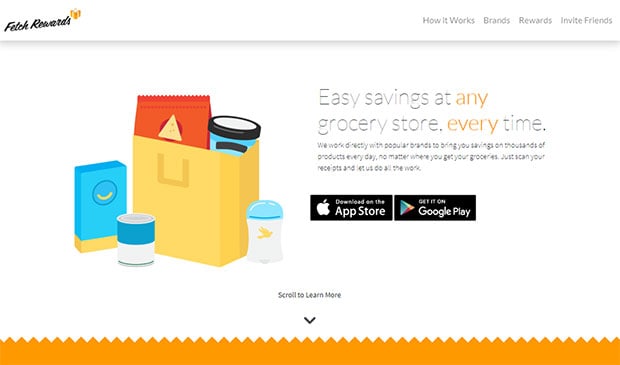 For example, I recently bought 2 pints of Ben and Jerry's Ice Cream and that gave me an extra 1,000 points for each (or $1 towards a Walmart gift card. It also identified some Pepsi products and Doritos chips. Often you can earn several dollars worth of rewards from one shopping trip, even without trying!
The best way to maximize your earnings is to buy things you were going to buy anyway, but just buy the brand that they have listed in the app to earn bonus points.
You can also earn points by referring other users to the service. Use our referral code, APREWARDS, during signup and you'll get 3,000 Fetch Points ($3 bonus) just for signing up with my code. (We'll get one too!)
Points can stack up pretty quickly, and you can get gift cards from Amazon, Walmart, Visa gift cards, iTunes and tens of other stores.
Go to Fetch Rewards
17. Drop 
Drop is a rewards app that is completely free to join and use. There are currently over 1 million downloads of the iOS app with an impressive 37,000 reviews.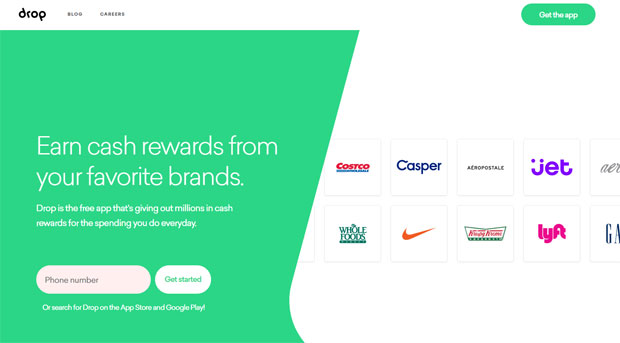 You can earn points by shopping directly through the app, and you can also link your debit or credit card for automatic points when you shop at specific retailers. If you like using the app and share it with your friends, you'll earn a further 5,000 points for the first ten referrals that link a card and confirm email addresses. 
The rewards from your purchases can take up to 8 days to appear in your account, and once you reach 5,000 points, you can redeem for Walmart gift cards or gift cards for many other popular retailers. 
Go to Drop App
How To Redeem Your Walmart Gift Card Code
Walmart gift cards take the form of plastic cards or electronic gift card codes. While you may be familiar with using a plastic gift card at your local store, redeeming your free Walmart gift card codes can be a little more confusing.
Walmart gift cards can be redeemed at:
Walmart.com
Samsclub.com
Walmart Stores
Walmart Gas Stations
Sam's Club Stores
Vudu.com
To use your gift card code in store, you will need to print it out and take it with you to your local Walmart. The cashier will enter the card number for you as payment, and if there is not sufficient funds on your gift card to cover your purchase, you can make up the difference with another form of payment. 
You can also use your gift card code to make an online purchase. When you reach the payment page on checkout, you need to select the "Use a Walmart Gift Card" option and enter the card number.  If the amount of your card is more than the purchase, you can store the remaining amount in your online account for a future purchase.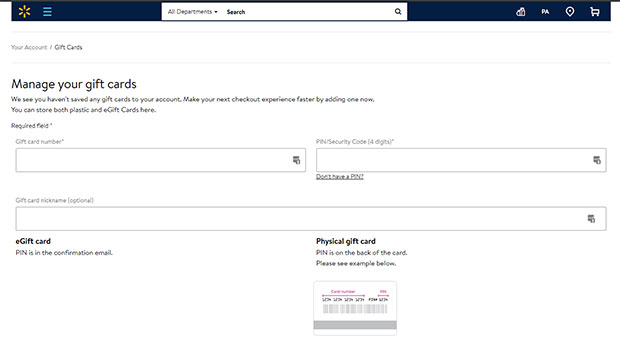 If you have several Walmart gift cards and you want to store them in your account for a future purchase, you can store up to five Walmart gift cards in your account at one time. To save your gift card in your account just do the following: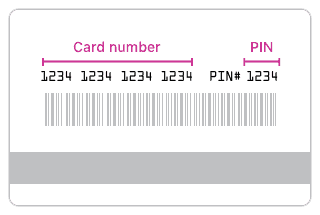 Sign in to Your Account
Select Account
Under Manage Account, select Gift Cards
Select Add a New Gift Card
Enter the gift card number, PIN and a gift card nickname
Select Save
Your information is now saved in your account and you won't have to enter the account number or PIN again when redeeming the codes.
Your Walmart gift card can also be used at Walmart gas stations. You will need to choose the pay inside option at your pump and take the card to the Walmart cashier to finish the transaction after you've pumped your gas. Again, you will need to print out your gift card, and the cashier will exchange it for a plastic card for use at the pump. 
Beware Of Walmart Gift Card Scams
Walmart is very diligent about gift card scams, however, you need to be aware of these scams in order to avoid them.
Many of these gift card scams involve receiving a spam email that asks for personal information in exchange for your free Walmart gift card. You may then be asked to "participate" in "sponsor offers" that may end up costing you fees, subscriptions, or other charges. This is why it is crucial to only use reputable companies, apps or websites to take surveys and earn free Walmart gift cards. 
One Walmart gift card scam involved consumers being invited to click on a link and enter a free code. Once you click the link, you need to provide personal details, such as your cell phone number. Once you agree to this, the scammers will start costing you money, as the fine print details that you will be subject to carriage fees and $13 every two days. So, subscribing to the service could cost you for that bit of celebrity news, funny video, or game. 
Fortunately, there are some simple measures you can take to protect yourself against scammers. First, only sign up with reputable companies. The ways we've listed here to earn free gift cards are reputable companies with a solid reputation for honest service. Additionally, the companies will protect your personal data. 
Second, you should always read the terms and conditions of any service before you complete the sign up process.
While these documents are often a little long winded, it is important to read through the details to check for any fees, charges, or other negative aspects that are not widely advertised. 
There Are Plenty Of Ways To Get Free Walmart Gift Cards
As you can see, there are plenty of ways to score free Walmart gift cards.
While the majority of these involve taking surveys, there are ways to accumulate points by playing games, watching videos, or even doing your shopping. That means that if you find taking surveys a little boring, you're not excluded from earning a free Walmart gift card.
Although you need to be wary of scams, there are some highly reputable companies who will reward you for your participation, allowing you to earn gift cards as a decent side gig around your other commitments. 
Do you know of other companies that will give you a free Walmart gift card? Tell us what they are in the comments!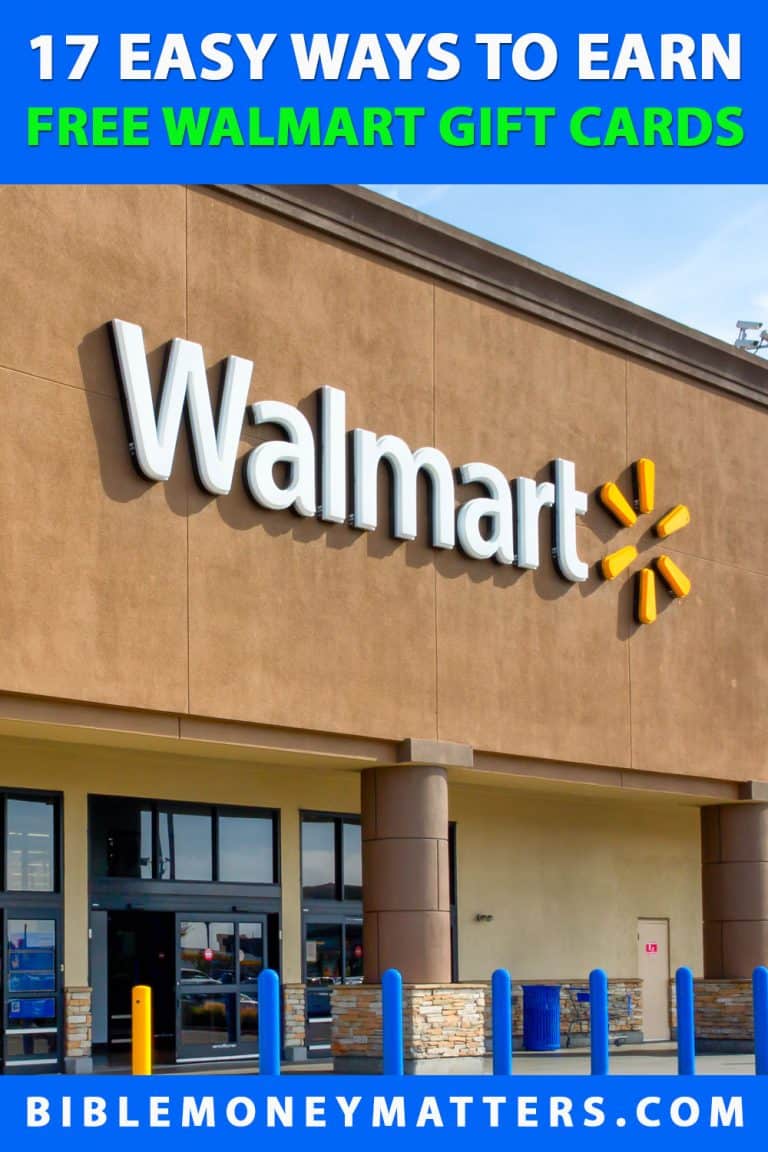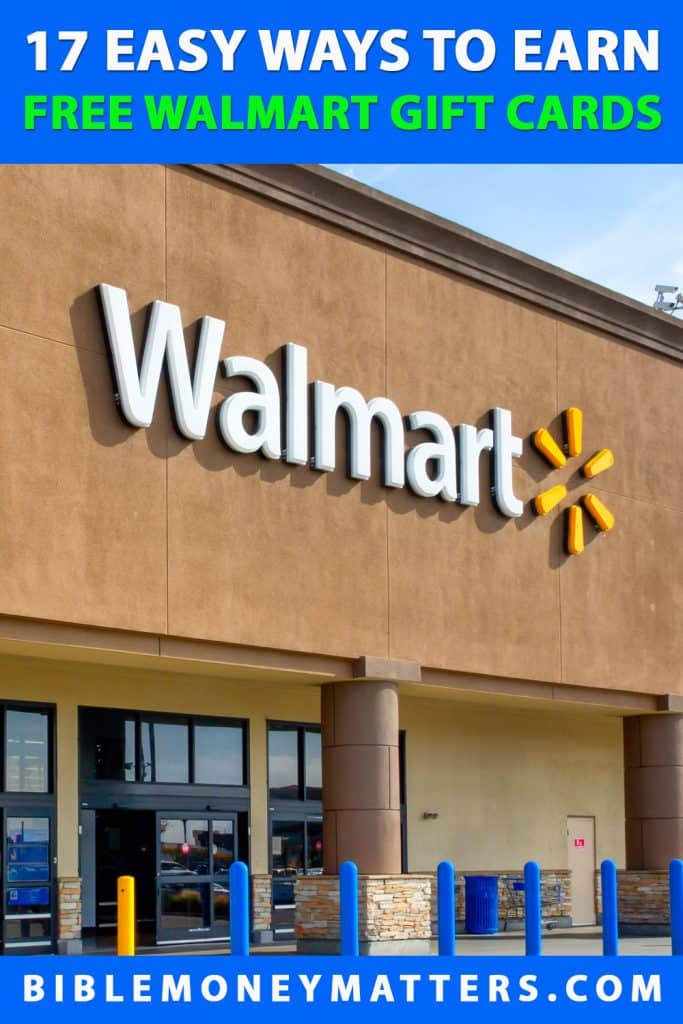 Frequently Asked Questions
How can I get a free Walmart gift card?
There are lots of way to earn free Walmart gift card codes. Some sites will ask you to shop through their portal in order to earn Walmart gift cards. Others will ask you to fill out surveys, or sign up for free services. Still others will ask you to write reviews, or refer other users to their service.
Where can I get free Walmart gift cards?
You can get free Walmart gift cards at cash back sites like Inbox Dollars, Swagbucks, PrizeRebel, Fetch Rewards or Drop. Many survey sites like Survey Junkie, Pincone Research, MySoapbox, Springboard Amaerica and others will pay you for filling out surveys in Walmart gift cards. Finally, many software companies will give you a free gift card for referring other users.
What is the easiest way to get free Walmart gift cards?
The easiest way to get Walmart gift cards depends on your personal situation, how much shopping you do, and how big of a friends list you have. If you have a lot of friends on social media that you can refer to use apps, products and services, for my money the easiest way to earn free gift cards is to refer your friends to products and services.
How do I redeem my Walmart gift card?
To redeem your Walmart gift card code just go to the Walmart site and then go your "Account" page. Under "Manage Account" select "Gift Cards" and then click to "Add A New Gift Card". Enter your gift card number and PIN. Hit the "Save" button and the gift card code will be added to your account where it can be used later. Walmart gift card codes are good at Walmart.com, Samsclub.com, Walmart Stores, Walmart Gas Stations, Sam's Club Stores and Vudu.com
What is the best app for free Walmart gift cards?
One of the best apps for getting free gift cards in my opinion is the Swagbucks app. You can get points for doing any number of things, and they have a low point balance for redeeming your points for gift cards. For their combination of low point totals and ease of earning, they're one of the tops in my book. Runner up might be PrizeRebel as they're very similar in ease of earning and redeeming.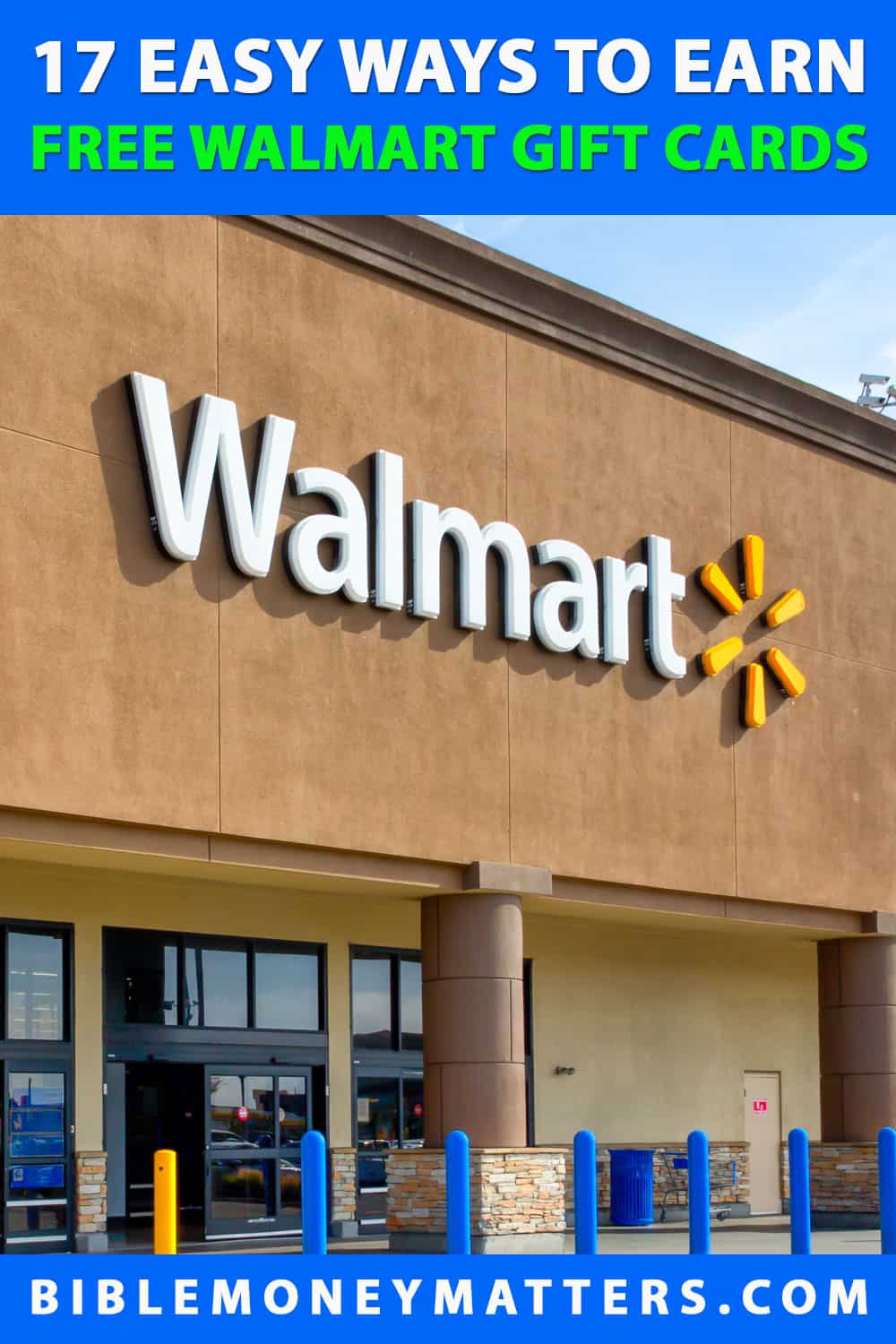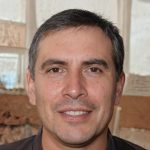 I'm a professional writer with over 10 years of experience in the crypto industry. I have written for numerous publications, includingCoinDesk, Crypto Briefing, and The Block. My work has been featured in Forbes, Business Insider, and Huffington Post. I'm also a thought leader in the space and my insights into the industry are highly appreciated by readers worldwide.